xanvu

customer support


Join date

: 2016-11-25


Age

: 23


Location

: England

on Fri Dec 09, 2016 10:50 pm
In the following lines, you will read about my experience i had, using externaim (Version, dec.2016)
In advance for you, externaim is the first "paid" cheat i' ve been using for now.
Alright let's get started then, sorry for waisting your time anyways.
What was important for me, before i decided to buy externaim?
I looked up some cheats on the internet, read much user reviews to different cheats. But in the end i couldn't find the one, who could fit to me. By going deeper into the "cheating scene", i read much about cheats, which you are just able to buy, by writting an application in a secret forum. If you get approved, you are allowed to purchase the hack. But by analysing these "special" ones, i realized the most just were some "copy & paste". So these couldn't fit to me.
The next point, what was important for me: I am looking for the one hack, the one hack which userbase isn't that big. So it has to be very unknown, by reducing the possibility that some user "abuse" this cheat that much, it could get detected very easily. So a day i read some user reviews on cheat-report.com and find a thread where someone has written about a cheat, called externaim. He just used the free version for three month, without causing any vac bans. So i clicked on the forum he has linked.
I found the thread, where you can find all informations about externaim. I thought i could give this one a try, and did a purchase for 1 month membership. After purchase, i got in contact with the admin very fast and he sent all the things to me, i needed to activate the programm for me.
What does the cheat offer?
Just go fast through the features, which externaim offers.
Aimbot
For most user, the most important feature at all. So what s so special about it? At all, how the aimbot handles is on you. The admin offers you the possibility, to customize the way how the cheat works for every weapon by editing the config file.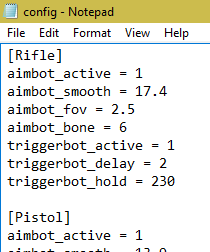 Smooth, fov, bone, visiblecheck are all included. You have to play a litte with the settings, to find out which are the best for yourself. If you don't wanna go that way, just take a look at the thread with "legit settings" released by the admin.
Triggerbot
The triggerbot, how to write about a feature, which im not willing to use. Ok for all, it works. Just assign a key to it, and you re on the best way getting banned by overwatch for using it on official matchmaking servers. I'm not prefering to use it, because i dont want. That's it.
Glow ESP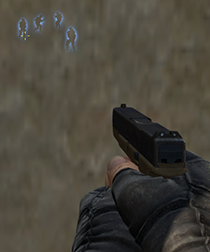 I prefer this one in comparison to the box ESP, which is mostly common on other cheats. You can enable/disable it, by assigning it to a key in your config file. I'm using default f8.
You can't edit the range, when it has to be activated. But it s ok for me, as long i don't have to see the enemies through the whole map.
Bunnyhop
It works well, but i am only using it on private lobbies playing bunnyhopmaps, not on official matchmaking servers. Valve fixed, i believe a year ago, bunnyhopping on 64 tick servers. So it s still possible to do it on 128 tick, but these ones arent offered by valve. So if you bunnyhop on 64 tick servers, it s very obvious you are using a software to do that. In overwatch this will confirm, you are using any 3rd programm, and this will get you banned.
Recoil Control System
This feature, will make look your spray more human. For the first time, maybe a little bit strange. but you are getting very fast into it, playing with it. if you don't like, it s still possible to disable it, by setting rcs_active to 0.
It s a feature which i don't wanna miss, and feeling very good with it using.
Also it gets updated mostly everytime, cs:go recieves an update, and the admin has to set up a new version of externaim.
Support
The support is perfect. I'm in contact with the admin by steam. If i have some problems/quetions etc. he answers me as fast as possible. And if i have something what could be improved, he respects that and also tries to include it, if it could be really necessary for other users too.
So in all, you can do nothing wrong by buying externaim, if you are looking for a cheat for legit hacking.
Externaim hasn't been detected by VAC since release, and i'm using it for three weeks now. I hope externaim will keep this way. It's not very complex, offers features that work(the features i prefer to use), and gets improvements every week.

VAC-Ban: 0
Overwatch-Ban: 1 /caused by abusing (confirmed by s1gnal)
AntiCheat support:
- VAC 2/3
- MatchMaking Anticheat
- FACEIT
- Libra
- UAC3
- SClient
MISC im using:
[Misc]
aimbot_key = 0x01
triggerbot_key = 0x12
visible_check = 1
bhop_active = 0
bhop_key = 0x20
rcs_active = 1
rcs_bullet_delay = 1
toggle_glow = 119
refresh_settings = 0x7B
panic_key = 0x2D
hide_console = 1

For private messages click here.
Matsuri

Registered


Join date

: 2016-06-22

on Sun Dec 11, 2016 4:11 am
wow really nice in depth review, agree we basically eveything
Admin

Developer


Join date

: 2015-02-12


Age

: 27


Location

: Canada

on Sun Dec 11, 2016 9:17 am
Thank you very much for the review, I hope you'll keep giving your feedback so I can continue to try to make the cheat better!
xanvu

customer support


Join date

: 2016-11-25


Age

: 23


Location

: England

on Mon Dec 26, 2016 1:43 pm
added screenshot of real playtime

Permissions in this forum:
You
cannot
reply to topics in this forum